March 31, 2022
Renter's Checklist For Spring Cleaning
---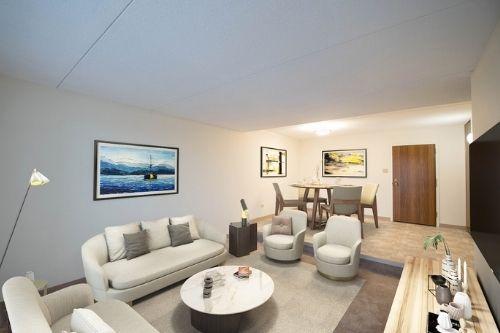 When spring arrives, you smell it in the air. You feel it in the warm sunshine that melts the snow. You hear it in the sounds of birds chirping and children playing outside. In a matter of weeks, the snow-blanketed city is transformed into a green and lively landscape.
Now that the outdoors is looking greener than ever, you might feel inspired to make your apartment just as fresh. Spring cleaning isn't just for when you're moving out or having company over; it has positive benefits for you, too. One survey of 2,000 people found that cleaning was associated with an increase in overall happiness.
Ready to reap the benefits of spring cleaning? The process is a bit more thorough than your typical apartment clean-up. To help you get started, we've put together this handy checklist:
Dust the Hard-To-Reach Spots
Does your apartment have a musty smell? It might be due to dust build-up. We're used to dusting places like book shelves or the living room coffee table. But the areas we don't often look at can be dust magnets.
Pick up a duster with a long handle to reach these spots. A few areas we recommend dusting include:
Between window blinds
On top of tall appliances (like your fridge or freezer)
The top of the door trim
Inside air vents
Schedule a Carpet Cleaning Service
Does your apartment have hardwood floors or carpets? If it's the latter, spring is the time to give them a deep clean. Doing so will remove stains and maintain a healthy living environment. We recommend hiring a professional carpet cleaner for this task. 
Declutter Drawers
We all have a "junk drawer" in our homes. You know, the place where you put things that have nowhere else to go. But once a year, it's worth taking a closer look at those drawers to see if you can organize your belongings. And who knows? You might find something that you thought was lost.
Check the Smoke Alarm
We rely on smoke alarms to detect smoke before a fire gets out of control. But if the alarm batteries die, we'll be left without any warning. We suggest that you test your alarms once a year—and spring is the perfect time for it.
To do so, locate the button on the detector itself. When you press it, it should emit a loud alarm. But if no sound comes out, then it's time to replace the batteries.
Do the Laundry
Most of us wash our clothes every other week. But what about the other fabrics in our home, like the bedding, curtains, and dish towels? Put together a few loads of laundry with the fabrics that could use a wash. Once you're finished, your entire apartment will smell like a fresh spring breeze.
Spring cleaning is a rewarding task, but it's also pretty exhausting. Do you need help finding Winnipeg apartments? At Globe Property Management, we feature hundreds of apartment listings on our website. Use our convenient apartment search tool to find the rentals that you're looking for. For more information, contact us today!